Dealing with a clogged drain? It's a major problem and sometimes inevitable given the apparent reasons for clogged drains. Those reasons may include hair, grease and food waste.
From the kitchen drain to the toilet drain, all household drains can easily get clogged. The key is to make sure that you take all preventative measures. Make sure that nothing that does not belong down there ends up inside the drains. However if somehow you end up having to deal with a clogged drain, fear not. Our qualified plumbers can fix any plumbing issue that you may encounter. That too in very little time causing you only the most minor of inconveniences.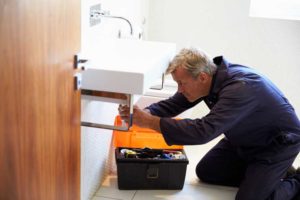 Nevertheless, it is always better to be able to tell if a drain is about to get clogged, rather than figure it out once it actually is. The very first signs of a clogged drain may include water draining very slowly. That is water starts to form pools and drains extremely slowly out of the sink. Take this initial warning and call us, Ocoee Plumbing plumbing company, Air Tech. And we'll be there right away to your rescue. Another symptom of a potential clogged drain is that your drain ends up making gurgling sounds. When your drains start to make unusual sounds, make sure you listen and take action. Air Tech can help you prevent a major drain clog before it actually happens.
Proper periodic maintenance can help you keep your plumbing system happy and healthy. So make sure that you do that by calling us right now. Air Tech is always ready to help our clients maintain their plumbing systems in the best manner. Not just maintenance, we are also the ones to call in case of a plumbing emergency. We take pride in providing our services with the best possible quality in the most prompt manner.