The medical officers and health advisors often guide the public to wash their hands properly to reduce diseases and prevent cross contamination. It is quite important to follow these cleaning procedures in a hospital or a healthcare environment as they have a higher percentage to spread disease causing germs. But multiple studies confirm that the frequent hand washing and disinfecting common touch surfaces is not adequate to prevent germ transmission. So, Seal Shield provides an efficient solution for hospital disinfectant staff to maintain environmental hygiene without any associated cost.
The Seal Shield medical keyboard is an infection control product which has inbuilt antimicrobial keyboard protection and waterproof construction. This keyboard is priced and typed as a standard keyboard but comply with numerous unique advantages. As mentioned earlier, the Seal Shield medical keyboard is a fully washable keyboard, and it is compatible with any disinfectant bleaching solutions. So, these medical keyboards are independently certified to IP-68 which is the highest rating against dust and liquid accession.
Most of the IT marketers appreciate Seal Shield medical keyboards because of the included SEAL CAP USB protector which protects the USB connector from getting contaminated with liquid when washing. Another advantage of these medical keyboards is the antimicrobial protection. It is found that the keyboard is an ideal breeding ground for viruses, bacteria, and fungi to colonize and spread because of the warm surfaces. So, Seal Shield medical keyboard has an embedded disinfectant additive to eliminate disease and odor causing microorganisms. Plus, these keyboards meet the RoHS standard which certifies they are free from harmful materials and not causing any side effects for humans.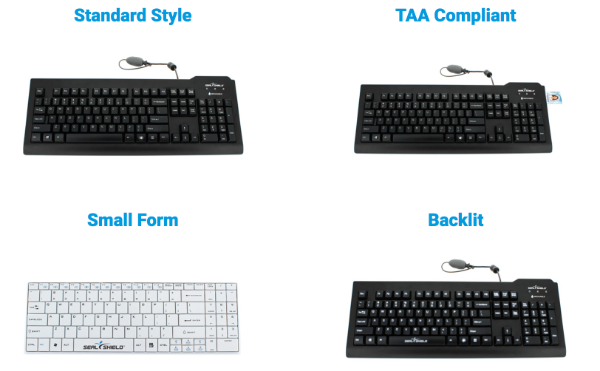 These keyboards are not only helping the hospital disinfectant staff but IT departments as well. These medical keyboards are Microsoft certified and available in different types as IBM style, true type construction or with low profile keys.