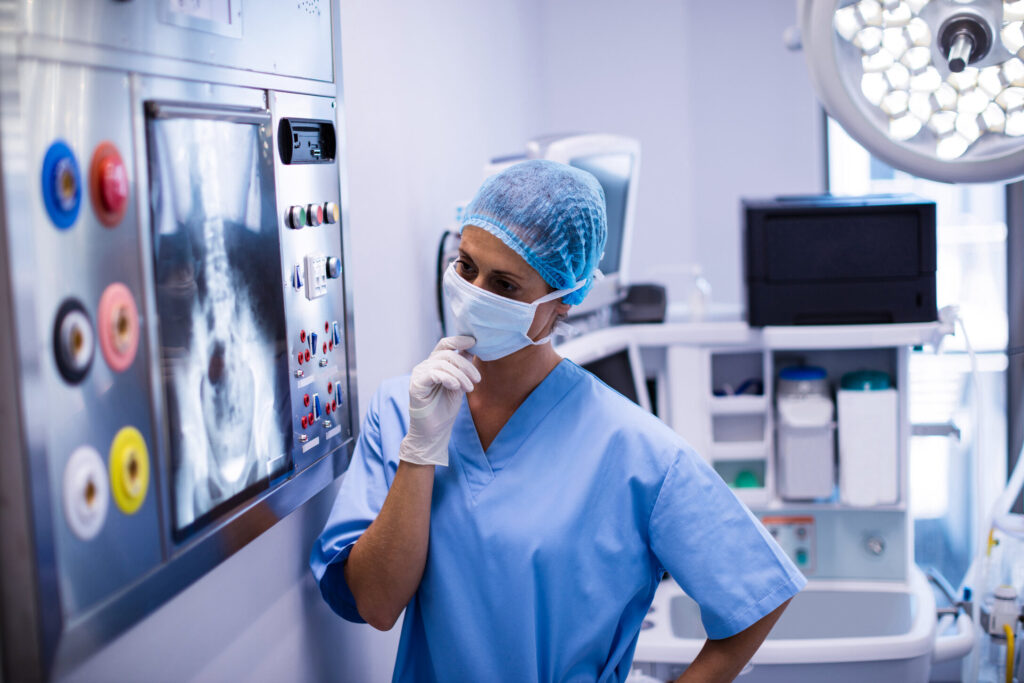 X-ray technology is the most commonly availed format for medical imaging, while being the oldest. When an urgent care center is setup, a significant amount of consideration needs to be laid over choosing the right mobile or portable X-ray equipment.

An X-ray machine is a must for any healthcare centre, because of the range of requirements it has, such as portable chest X-ray. It is important to conduct meticulous research before choosing the best suited X-ray machine for your healthcare facility.

Computed Radiography (CR) vs. Digital Radiography (DR) vs. Film
Computed Radiography (CR)
Computed Radiology (CR)
In the case of Computed Radiography, Phosphor Imaging Plate is used for capturing a digital image, rather than a photographic film. A cassette based system, such as an analog film is used in CR. This is often perceived as a bridge amongst classic radiography, and the fully digital methods, which are increasingly becoming popular.

Starting from 1st January 2018, CR users have experienced lower reimbursement rates granted by third party payers and Medicare. The reimbursement rates have reduced in the range of 7% to 13%, which brings a monetary advantage for DR users.

Digital Radiography (DR)
Among the latest advantages in the field of radiography is Digital Radiography (DR). In DR, X-ray sensitive plates are used. They capture data directly during patient examination. The data is then directly transferred to a computer system. The usage of an immediate cassette is not there in DR, unlike the case of CR.

Hence, in the case of DR, the image's conversion to digital data takes place in real time. In merely a matter of seconds, it is available for review. Alternately, DR also has capabilities of fixed or mobile use.

Film
In Film radiology, silicon films are used in a cassette. The cassette is first placed behind the object that is being imaged. Then, the exposure to an X-ray beam takes place. This methodology comes with the risk of higher radiation exposure for the patients. Similarly, the time taken for developing the film is more than time taken in either cases, CR and DR.

Types of X-rays apparatus

Fixed X-ray apparatus

Fixed X-ray apparatus would require transformers that have such a size and input that can be created in a room. Fixed X-ray apparatus is provided with special connections to the mains.

Portable X-ray apparatus

Portable X-ray apparatus comes in to be a handy tool for monitoring and diagnosis purposes. It is useful for patients in a variety of circumstances, nursing homes, prisons and ICUs. In the aforementioned cases, transfer of the patients to the radiology department may act as a hindrance.
Use of Portable X-ray apparatus is particularly useful for startup facilities or any medical facilities that are bound by space constraints. In this case, the transformers are sized small and the need for lead shielding the walls isn't there. At lower construction costs, Portable X-ray systems can be made operational.

Mobile X-ray Apparatus

Mobile X-ray Apparatus is among the Digital Radiography's latest advancements. By using these machines, users are empowered to use the equipment throughout the healthcare facility. Solutions are hence made available for non-ambulatory patients; transporting whom to the X-ray room may be difficult.

Portable X-ray machines characteristically make a range of advantages available. But despite the same, bedside chest radiograph can but deliver a limited performance in the terms of image quality.

Nevertheless, mobile X-ray machines are an important innovation, and the capability of bringing the machine to the patient delivers a significant boost in the quality of healthcare. A mobile X-ray machine will have higher outputs, as compared to portable machines. They are mounted on wheels and feature larger transformers.

Important points of consideration when buying portable X-ray equipment:

o Length of warranty
o covered warranty
o Prices of replacement parts
o How frequently should the replacement parts be replaced
o Maintenance of equipment and associated maintenance costs
o Size of the generator required
o Availability of PACS (Picture archiving and communication system)
When investing a portable or a mobile X-ray machine, an end-user should consider the following questions.
o What is the usage volume for X-ray machines going to be like?
o Are the X-ray procedures used at our facility going to be basic?
In general, mobile or portable units will be:
o Low-powered
o Easy to maneuver or use
o More affordable as compared to fixed X-ray apparatus

Amber USA is a trusted name for the manufacture, installation, configuration and maintenance of X-ray machines of all types, and medical equipment in general. We are the trusted global name in the manufacture of used, second-hand and refurbishment medical equipment. All medical equipment that we sell performs as good as new.