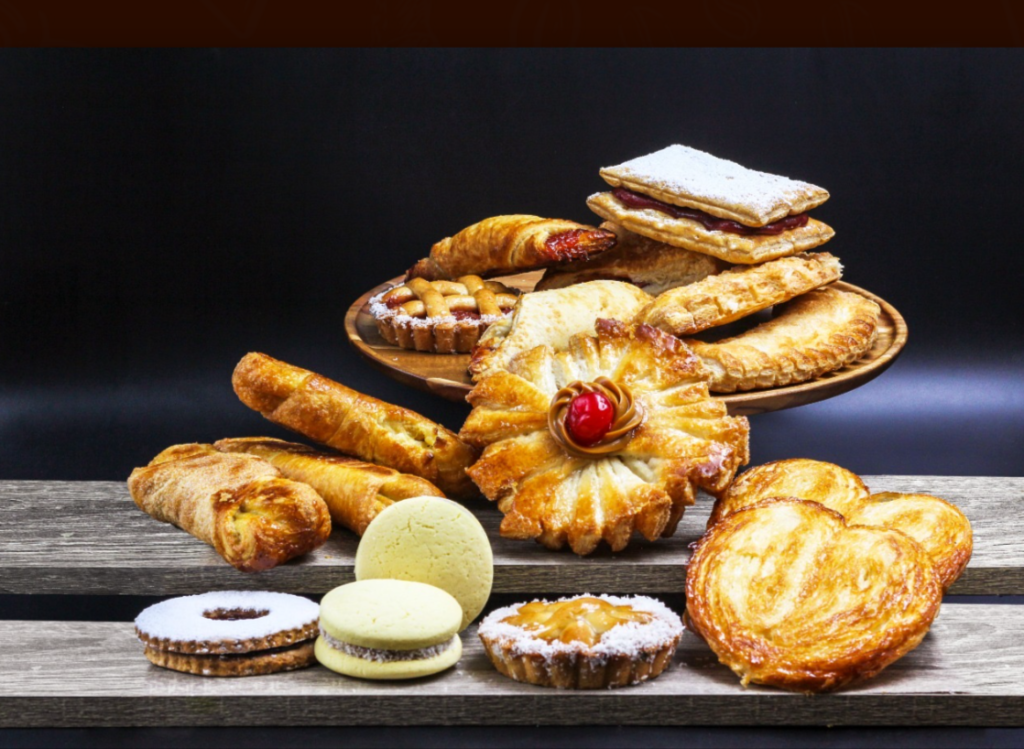 About Mecatos Bakery and Cafe
Welcome to Mecatos Lake Nona! Mecato means treat in Colombian, and Mecatos Lake Nona provides real authentic Colombian treats in a welcoming and friendly environment. Our passion for authentic Colombian food comes from our founder Edward Lurduy. In 2015, he researched the very best Colombian recipes before opening up the first store in 2016 in the Orlando, Florida area. Since then, we have opened four additional stores with one here in Lake Nona, and plans are underway to open an additional three stores. It is an exciting time for us as we get to introduce more people to authentic Colombian food and culture.
Mecatos Menu
Treats
Mecatos Lake Nona is all about the treats, but some of them are more than just sweet. Mecatos Lake Nona has a diverse selection of savory delicacies that include sandwiches made on homemade arepa and mayorca breads. We offer up beef, chicken, as well as ham and eggs. Mecatos Lake Nona also has empanadas with your choice of beef or chicken. We also sell chorizo and morcilla sausages and American treats with a Colombian twist like our hot dogs and bacon and cheese croissants. Vegetarian options are also available.
Dessrets
Mecatos Lake Nona has a wide assortment of deserts. Starting with our pastries that include quesitos, corazones, and chicharrons. All of our pastries come in an assortment of flavors that include cream cheese, guava, apples, and coconuts. We also have a selection of cookies that include alfajores, linzer tarts, and butter cookies. Can't eat just one? Depending upon your craving, we have a small pack that has six to eight cookies or our large pack which has twelve to sixteen. Mecatos Lake Nona even serves merengue.
Cake
Having a party? Need to celebrate a special occasion? Mecatos Lake Nona has you covered with our line of cakes. We have domestic favorites such as cheese cake, strawberry shortcake, and strawberry rolls. Mecatos Lake Nona offers up decadence and extravagance with our tiramisu and tropical basket cakes. We also prepare three milk cakes and flan. Naturally we have a selection of South American flavors with dulce de leche, miloja, and guava.
Bread
Mecatos Lake Nona is also known for its breads. Our most famous bread is our bono bread. It is made out of cheese and few other ingredients. We can serve it plain or with a rich guava filling. Another of our favorites is bunuelo. Bunuelo is our cheese dough that is deep fried giving it a crispy outside with a soft and silken inside. There is also our ringed cheese bread that is made with a few less ingredients which gives it a unique texture. Mecatos Lake Nona also serves other types of bread like roscon or croissant.
Coffee
Of course our selections would not be complete without our fine coffees. Mecatos Lake Nona gives a great selection of fine coffees, and they come from our own special selection that we sell in 12 and 88 oz bags. Want to have it ground? Just ask! Along with our traditional coffees we have classics like lattes, cappuccinos, and espressos. But we also have hot chocolate as well. We are not exclusive to just coffee. Mecatos Lake Nona serves Postobon sodas, fruit smoothies, and we even make avena which is an oatmeal drink. We also have traditional products like Coke, Gatorade, and Snapple along with milk, fruit juice, and water.
What should you expect when visiting Mecatos Lake Nona?
You should expect authentic Colombian food, a welcoming and friendly environment, and quality service. We celebrate Colombian food and culture, We want people to see what Colombia has to offer. Mecatos Lake Nona also celebrates you the customer. Since we opened our doors six years ago, Mecatos Bakery & Café has grown to become an important part of Orlando's life. We could not have done that without you. We look forward to the next six years and seeing where you will take us.
Mecatos Lake Nona provides catering service for all those important gatherings, special events, and meetings. Be sure to give us a call to learn more. Don't want to wait in line? Download our app over at Google Play or Apple App Store. Are you looking to start your own business? We have plenty of franchising opportunities for you.
As we stated before, we have four locations, but if you live in the Lake Nona area then you can find us at 10783 Narcoossee Rd Suite 125 – 129. You will know that you are in the right area when you see an Edward Jones. We're also beside the beautiful Buck Lake.
Mecatos Bakery and Cafe Lake Nona Orlando
Address: 10783 Narcoossee Rd Suite 125 – 129
Phone: 407-674-6194
Website: https://mecatoscafe.com/lake-nona/