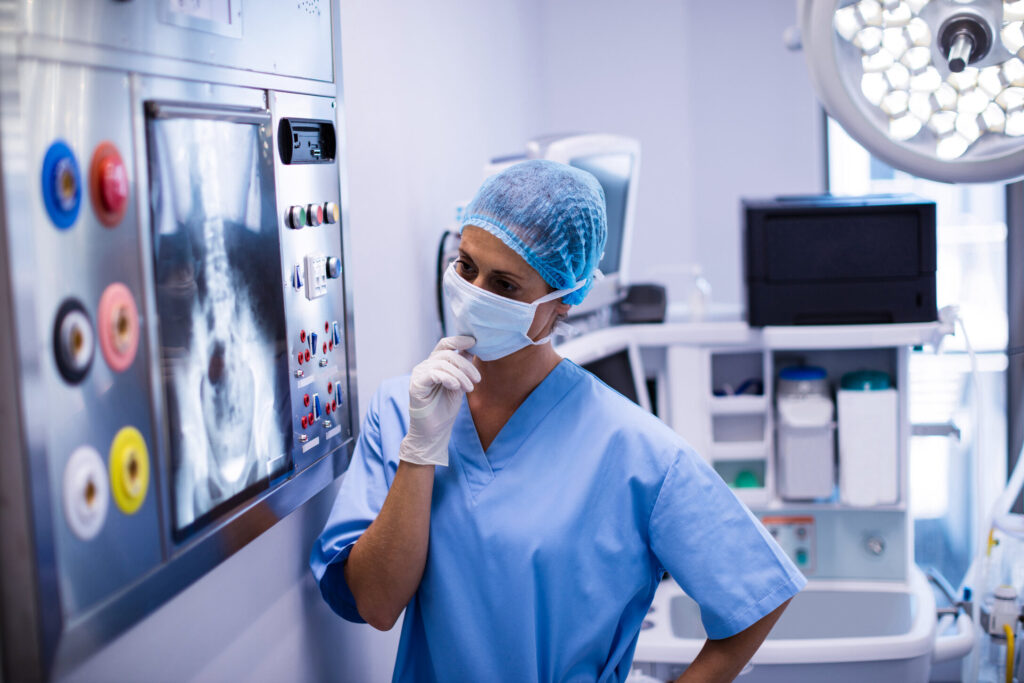 Radiography has become significantly popular over the years due to its efficiency in diagnosis practices. These devices record images within the internal structure of the body of an individual to assess whether there could be possibilities of diseases, foreign objects or damage in the structure of the body. During an imaging procedure, an x-ray beam passes through the body. A part of the x-rays are absorbed by the body and are scattered by the internal structure of the body. The remaining x-ray pattern is then transmitted to a detector which allows an image to be recorded for evaluation once a full image has been created. To record the pattern of these images either film or electronic means can be used.
X-ray radiographic procedures can be used in many different kinds of examination procedures where the uses of static images are required. This includes:
Verifying the correct placement of surgical markers before invasive surgical procedures.
Orthopedic evaluations.
Static recording or film recording during fluoroscopic procedures.
Chiropractic examinations.
Whatever reason you may need an x-ray machine for, knowing what kind of imaging examination to get and where the device should be mounted is another thing to keep in mind.
Even x-ray requires a form of stand. It is required for the support of the medical imaging system as a whole, including support for the x-ray tubes, monitors, and other devices associated with the device. It is helpful to understand the function of the support, so you would be able to choose the right one to suit your needs. The options of support include floor-mounted tubed, floor to ceiling mounted tubes, or ceiling mounted tubed.
So how can you determine which one is right for you?
Floor mounted tubes:
A floor-mounted tube is the standard option for xray machine systems that provide a complete range of radiographic procedures that are typically routine. It is especially convenient since it doesn't require any costly modifications for the structure. It is also versatile and may be beneficial if you're on a budget. These support systems also have column rotations which means it would be easier to move if it is necessary. However, it doesn't provide much support to perform procedures. It is more convenient for smaller clinics since it can fit in compact rooms. Additionally, it is also one of the easiest systems to sell if you want to upgrade after a few years.
Floor to ceiling mounted tube:
These stands offer versatility and easy handling for general radiographic procedures. However, it is not as fully functional as floor mounted tubed. These models are the least expensive from the options. Although, you may find that the quality would be less. This option is normally chosen for facilitating a wide range of general procedures in provincial hospitals.
Ceiling mounted tubes:
This model is significantly stable since it is equipped with two support rails on the floor and the ceiling. The downfall, however, is that it is more challenging to install and remove if required. It also requires a large room with a lot of support in the ceiling. This item stands between the floor mounted tubes and floor to ceiling mounted tubes when it comes to the price. Additionally, when it comes to replacing this model, it becomes difficult to resell.
If you're unsure about where to make your used and refurbished xray machine equipment purchase for an affordable price while ensuring the quality, no need to worry anymore. Amber USA is the perfect place for you. At Amber USA, we provide top quality services and products for all our clients so that they can ensure optimal patient care at their medical facilities. Contact us now for inquiries!