There are wedding venues that leave you with no feelings whatsoever. It is hard to be attracted to an insignificant place and celebrate your big day. Therefore, we have introduced wedding Venues Tampa consisting only the very best places in town. Also, due to the variety of locations we have added to your list of options, we are sure no customer who comes in search of the ideal place will be disappointed.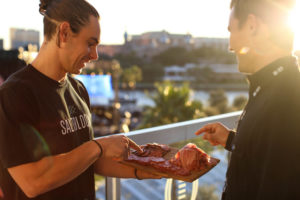 We are aware of the different personalities that prefer outdoors to indoors, glamour to comfort. That's why we have included outdoor and indoor venues of various styles to Wedding Venues Tampa. The most exclusive additions to our list are Cavu and Orlo. They allow a classy celebration to take place in the manor-like environment they have to offer. For more new preferences, we present you Glazer Children's Museum and The Vault to those who prefer indoors. For those who love nature, we have great offers for you as well. Forty-two Ten and our partners in town, Tampa Bay Watch allow you to use green courtyards and sandy beaches as the scenic backdrop for your memories.
Wedding Venues Tampa combines the best catering service in town as well. The Saltblock Hospitality Group is well-known for the delicious and carefully crafted food made out of the finest and the freshest products. The industry professionals are committed to making them more presentable and create an unmatched hospitality experience for our clients. Additionally, we provide beverage services which consist of local beer to the crafted cocktails, served only by the bartenders who are accredited for safe serving.
As the goal of the Saltblock Group, we have been cultivating change and innovation in the industry, adapting to the changed requirements and addressing the pains of our customers.