Since diamonds are always a woman's best friend, men tend to look around for the perfect stones for the women in their lives. Diamonds vouch for forever and love, which is why men save for years to purchase the small gemstone for their lady loves. But due to the lack of transparency and an increasing number of frauds in the gemstone industry, Ajay Anand created the idea of Rare Carat. A marketplace/ diamond search engine that compares and scores diamonds from direct wholesalers. With the vision to provide artificial intelligence-powered and lab-grown gemstones, Rare Carat is the first marketplace in the United States that offers Augmented Reality (AR) to digitally visualized how an Engagement Ring looks on your hand.
Popping the question with a lab-grown diamond
Most people do their research before purchasing a diamond and popping the question to their partners. Diamonds are one of the most expensive purchases in anybody's lives, keeping vehicles and living residences aside from exceptions. While purchasing a diamond, one needs to consider several things, including purity, Carat, color, cut, and even fluorescence, apart from the price. Even though the market is full of educated people on diamonds, it is people who are first-time buyers who become victims of low-quality diamonds or higher prices without doing proper research.
Why Rare Carat?
Unlike other gemstone dealers, Rare Carat does more than just price comparison of diamonds. Instead, clients can get diamonds of their preferred size, Carat, shape, and color and receive a clear comparison of information from gemologists. The information and reviews are unbiased and neutral of any stance. Similar to websites that allow users to compare hotels and flights, Rare carats enable users to compare diamonds before heading towards a purchase, and they act as an escrow service to provide a smooth transaction for both parties.
Augmented Reality (AR)
Company use Augmented Reality (AR) to digitally visualized how an Engagement Ring looks on your hand with different diamond shapes and sizes.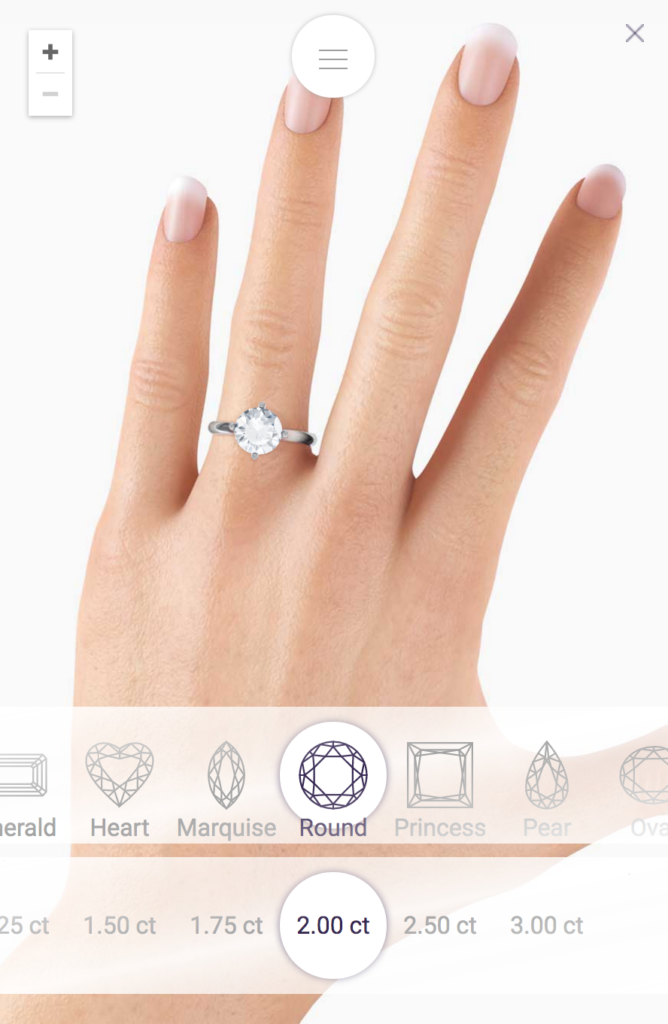 Marketplace for the mass
The marketplace solely targets and caters to clients who belong to the millennial sector of the society, hoping to find diamonds that will be worth the money they have worked so hard to earn. It focuses on creating a marketplace for clients that will provide them with the comforts of online shopping but with a guarantee of authenticity.
Guiding through every step of the process
With able gemologists and Rocky- the chatbot, Rare Carat is a marketplace that is balanced with just the right amount of artificial intelligence and human expertise. It strives to provide suitable diamonds to customers with ultimate information transparency and at the right cost. Its mission is to ensure that online shopping of diamonds for millennial become more trustworthy and comfortable.
As the CEO of Rare Carat believes, if used right then chatbots accompanied with human intelligence, then the industry would be greatly benefitted, given how Rare Carat is focusing on several opportunities that will bring more transparency for diamond lovers, including blockchain technologies. It will help customers comprehend the mining process and development of every gem that is being introduced in the marketplace. They are also incorporating software that will allow customers to try on rings before making a purchase.
Rare Carat FAQs
How many diamonds are generally used in any product? The number of diamonds depends upon various products. At Rare Carat, most of the jewelry is trend-based as well as customized. Hence diamond products range from single diamonds to about 40 diamonds a single product.
Understanding Diamond Carat Weight: The 4Cs of Diamonds. The Carat (also known as weight) is the measurement for physical diamonds. One Carat equals 0.200 grams and can be subdivided into 100 points; this makes it easier to measure smaller amounts when compared with other units more familiar in America, such as ounces or pounds avoirdupois, which both equal 4/3rds kilos. However, Carat is not the only factor that decides a higher price; it also depends upon its cut. So, if a higher carat diamond is not cut properly, it would look small. Hence, choosing a diamond with the proper Carat and cut is important. At Rare Carat, there are plenty of options to compare and price match a diamond that is available even at other vendors who are selling for higher prices.
How many types of diamonds are there? Essentially there are two types of diamonds, one being natural diamonds and the other being lab-grown. At Rare Carat, both natural as well as lab-grown diamonds, are available, which are certified by IGL as well as SGL laboratories that assure they provide authentic jewelry.
Which are the most popular shapes for diamonds? Though it has been generally observed that people prefer round diamonds, but there are a lot of people who like different shapes of diamonds, like the emerald cut, heart shape, etc. They are also available at a lower price compared to other diamonds. Most of these diamonds that are of non-round shapes appear larger than the other diamonds carrying about similar carat weight. Some of the popular shapes preferred apart from the round are cushion, oval, pear, marquise, heart, trillion, emerald, etc.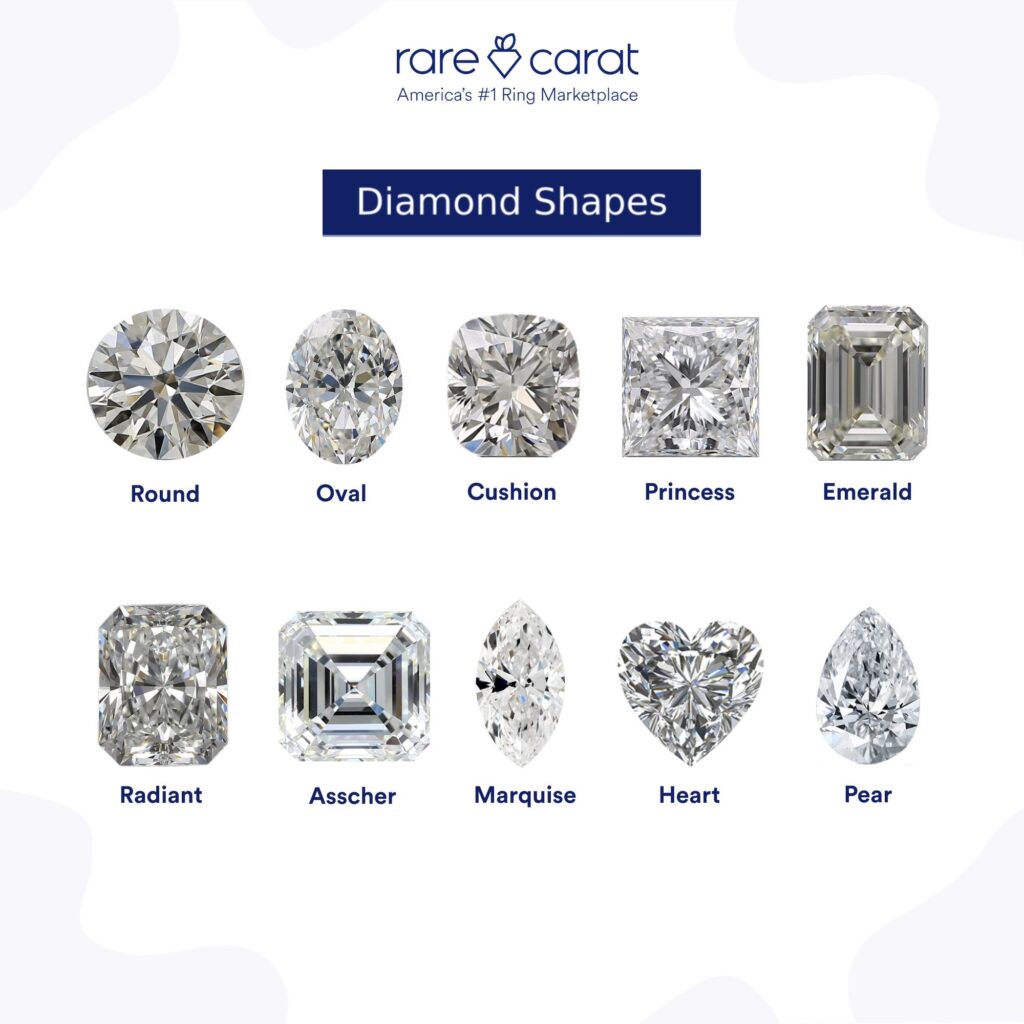 What should be the preferred ring style for diamonds? When people shop for engagement rings, most are clueless about the shape of a ring. Hence, they are pretty confused about it. Ring style plays a very important role in making the diamond look good. So, choose a ring style that complements your diamond really well. Rare Carat has a large range of different ring styles for their diamonds. Moreover, there are options for customization. So, try and figure out their setting plan and go for the one which will ideally be the best for you.
Conclusion
Rare Carat is the future of diamonds and diamond lovers with the right balance between artificial intelligence, unbiased gemologists, and virtual reality. With the proper techniques, software, and IT development, Rare Carat is a marketplace that has been developed to provide customers with transparent information and value for their money. The marketplace has been designed to help first-time buyers and regular diamond purchasers without taking any commission in between. The entire marketplace works on revenue that is generated from advertisements run on the website daily.
If you happen to like diamonds and you live in the United States or Canada, then you need to give the Rare Carat website a visit. The marketplace has been designed to provide accurate information about every diamond piece that a seller is selling. Right from the purity, Carat, size, and even color, you will get every information you need before purchasing.